Visual Cut by Millet Software: Streamlining Operations, Boosting Productivity, and Gathering Insights for Sage 100 Cloud Users
LLBPartners.net
info@llbgroup.com
215-654-0800
In today's fast-paced corporate climate, staying ahead of the competition requires effective operations, increased efficiency, and precise business analytics. That's where Visual Cut by Millet Software comes in as a game-changer for businesses using Sage 100 Cloud as their ERP solution. This robust reporting and document management solution offers a range of features that can significantly improve Productivity, efficiency, and well-informed decision-making within your company.
How Visual Cut Enables Businesses Utilizing Sage 100 Cloud:
1. Streamlined Reporting:
Visual Cut streamlines and automates the reporting process, saving your team time and effort.



I

t offers a user-friendly interface for creating, customizing, and scheduling reports, ensuring timely and accurate information for important stakeholders.



With Visual Cut, you can easily develop and publish comprehensive financial reports, sales analytics, inventory summaries, and more, empowering your team to make data-driven choices effortlessly.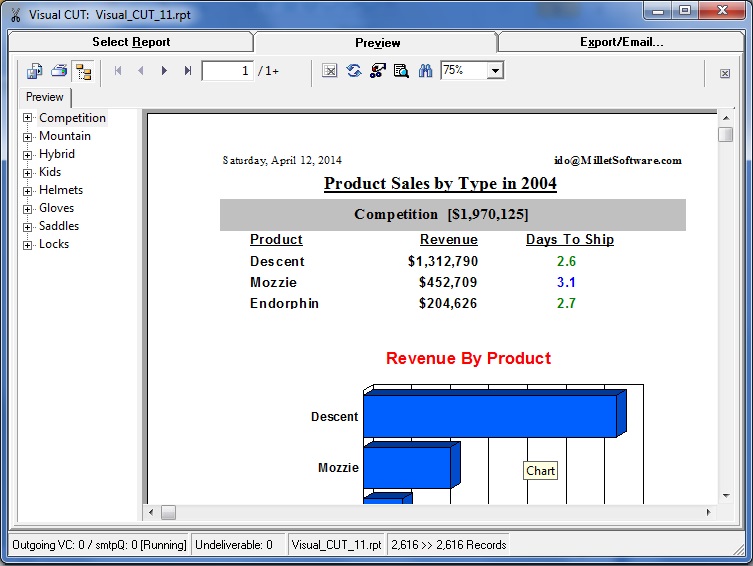 2. Enhanced Productivity:
Efficiency is the foundation of Productivity, and Visual Cut excels at streamlining workflow procedures.


Advanced automation features allow you to establish automated report generation and delivery workflows, eliminating the need for manual involvement.


By automating repetitive operations, Visual Cut provides your staff with more time to focus on important objectives and value-added activities.


Visual Cut frees up your staff's time by automating mundane tasks, allowing them to concentrate on crucial goals and value-adding activities.



Collaboration and well-informed decision-making are promoted with our scheduling tool's wide range of options and user-friendly drag-and-drop interface. This ensures critical reports are delivered to the right people at the right time.
3. Seamless Document Management:
Visual Cut's robust document management features enable businesses to efficiently organize and share documents.


The interface is designed to be user-friendly, allowing you to effortlessly combine, divide, watermark, and encrypt documents.


Visual Cut boosts productivity and minimizes manual errors by streamlining document processing. Whether you need to create customer statements, purchase orders or invoices, our solution can help.



By utilizing the interface with Sage 100 Cloud, accessing pertinent data becomes effortless, leading to seamless real-time customization and generation of documents.
4. Actionable Business Insights:
Informed decision-making is crucial for long-term growth, and Visual Cut equips businesses with the tools to maximize their Sage 100 Cloud data.


The program enables the creation of dynamic reports and visually appealing dashboards, simplifying the evaluation of large datasets.



Visual Cut's data visualization features help identify trends, seize opportunities, and uncover potential pitfalls, allowing your team to make data-driven decisions that propel your company forward.
5. Personalization and Customization:
Visual Cut understands that every organization has unique reporting and data analysis needs. That's why it offers a wide range of customization options.


Tailor your reports, dashboards, and documents to suit your unique needs.


Customize your reports to truly represent your brand's identity by selecting from an array of themes, fonts, colors, and styles.


This customization enhances stakeholder understanding and engagement with your reports while improving their visual appeal.


Example Reports and Outputs
Web Grid Example
Web Schedule Example
Customer Statement with embedded Invoices
Companies utilizing Sage 100 Cloud need Visual Cut by Millet Software to unlock new levels of Productivity, efficiency, and business insights. By streamlining reporting procedures, boosting Productivity, and offering seamless document management, Visual Cut empowers businesses to make well-informed decisions, maintain competitiveness, and foster growth. Maximize the potential of your Sage 100 Cloud ERP solution and take advantage of Visual Cut's strength to drive your company forward.
Contact LLB today for more info!